I thought I would share some inspiration on throwing a Batman Party……….
I have always loved Batman, I have such fond memories of watching the 1960's tv series with my dad and brother as a child.  Which actually inspired Beau's Batman 5th birthday party that I threw last year!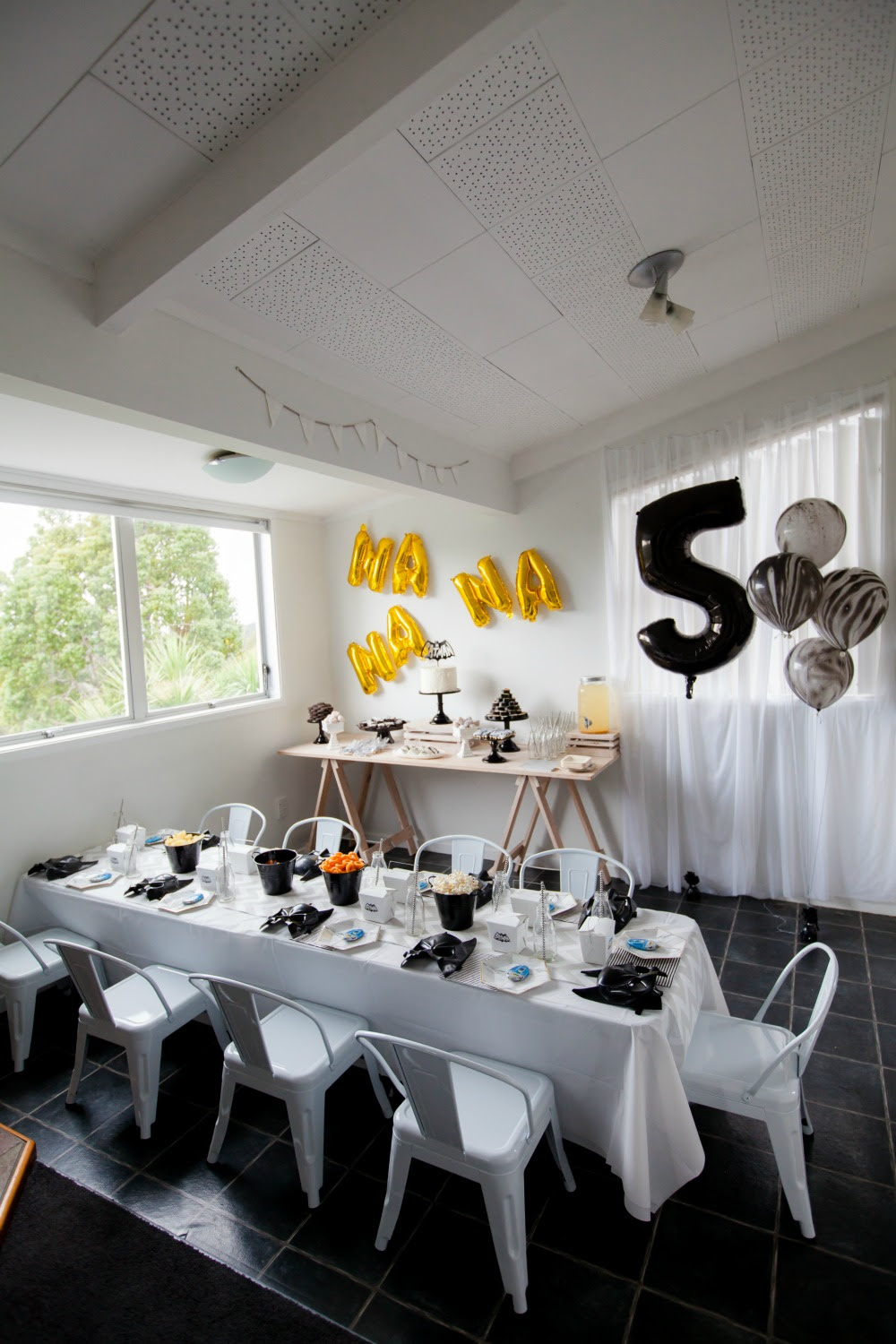 I have curated a Batman Party collection on the website in a black, white and gold colour scheme
PARTY TIP:
When planning a party once you have decided on a party theme choose your colour scheme I usually pick 2-3 colours plus a metallic accent colour like silver or gold.
Our batman mask doubles as a party table setting decoration and party favor the kids can take home!
Our gold foil letter balloons spell out NA NA NA which was the perfect simple backdrop for this theme
PARTY TIP
If you can set up the table and backdrop the day before the party that gives you a chance to play around with where everything is going to be placed and what food will go on what dish.  Pop a post-it note on the dish of the food that will go on it so if anyone is helping you, you can easily direct them to set up the food on the table.  I have to admit that I actually didn't plan it out to well for this party I just thought I would wing it so there are so many things I would now tweak.
Black foil number balloon + black marble balloons work in well for the monochrome colour scheme
A black perspex batman cake topper I had custom made by Love From Seventeen (which is available to hire) made the perfect statement piece for the simple birthday cake I made (sitting on our black milk glass cake stand)
A wee party flatlay of the party items, I loved keeping the colours monotone but working in patterns of the products to keep the table setting interesting.
I used a black stripe napkin paired with a marble hexagon shaped paper plate, mini milk bottles with black chevron paper straws.
I served chicken nuggets and hot chips (Beau's favourite) in our noodle boxes
In keeping with the marble I made these marble fondant sugar cookies using our batman cookie cutter.
These cookies were actually easy to make, here's a link to making sugar cookies.  You can make sugar cookies a week in advance (they last for so long and I love being able to make things earlier, the less you have to make the day before right!) and the fondant can be done a couple of days earlier.  Here's a link to making the marble fondant and you can attach the fondant to the cookie with apricot jam.
Oreo cookie stack on our small hire black milk glass cake stand
Batman sugar cookies packaged in our long cello bags tied with black 12 ply bakers twine for take home party favors.
PARTY TIP
The sugar cookie batch makes so many cookies, these were a cheap addition to the party favors
Black chevron paper straws in our mini milk bottles for the adults, each child had a bottle on their table setting.
Old fashioned lemonade served in our mason drink dispenser, these dispensers are such a great size and I always pop mine on a whitewash crate (upside down) so there's enough room to place a cup or bottle underneath without having the dispenser on the edge of a table.
PARTY TIP
I make up homemade lemonade (or a punch without the lemonade) a day before the party and store it in the fridge in recycled plastic bottles so the day of the party I can easily give someone else the job of placing ice and the drinks in the drink dispenser!
PARTY TIP
Always have food to serve adults, I created this platter of Oreo marshmallow sandwiches, sausage rolls (extras from the kids food) seeded crackers I made with brie and Magnolia Kitchen chocolate macarons.  This platter was placed on our coffee table away from the party table.
PARTY TIP
When planning a party I always start with creating a pinterest pin board, I pin my favourite ideas and products I want to use so I  can see everything together just like creating a mood board and I can link back to ideas like DIY marble fondant closer to the time.  I always find there is some great idea I have forgotten about but its on my pin board to remind me.
Party Styling by Juls Cavanagh
Photography by Nadine Canestri
Save
Save
Save
Save
Save
Save
Save
Save
Save
Save
Save